So when I was at my mom's house a while back, the kids and I decided to to a project for Nana. My mom loves to garden, so we thought a garden project would be perfect for her.
At Michael's craft store I got some Styrofoam balls, grout, glue, stones, and various sized flat backed glass pieces. We started out by gluing the glass to the balls. we used E-6000 glue, which ate the foam a bit, but worked really well – I'm sure there is a glue out there that works perfectly for foam and glass, but the E-6000 did the job!
Next we filled in all the blank spots with stones, we tried to use only flat stones, or we would squish any high points into the Styrofoam ball if needed.
After waiting 24 hours we grouted the balls with black grout made from a powdered mix, we made it rather thick so that it really stayed in place in the whole ball and just rubbed it in with our hands. I waited about 5 minutes before I started wiping with a slightly damp sponge that I rinsed frequently.
I thought my Mom would hide the balls amongst her plants, but instead she stuck them front and center by her front door. (Next to a plaque my big sister gave her!)
The biggest ball was the one I made, and the other 2 are the kids.
The grout makes them waterproof, so they will last just fine in the elements, and they are fairly light weight since they have a foam core!
I would love to hear from you if you like these, or even better make some of your own!
Blue Cricket Design Show and Tell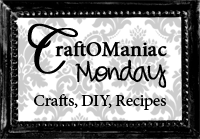 – Posted using BlogPress from my iPhone