So remember how I was knitting Weasley sweaters for my kids? If you remember I managed to finish Isaac's for his birthday in October, after that I started Emmie's and got her's done mid November, and then made one for my husband Paul, which I managed to finish a week before classes let out in the middle of December. Ack! 3 sweaters since the middle of July! My left index finger is still a little numb. (I only knit during classes or in the car if I'm not driving, that way my hands have something to do while I'm listening, or sitting idle.)
The scarf Emmie is wearing is a tiny one I made her for Halloween when she was around 18 months old!
I used this book mostly for the patterns, but I made quite a few alterations. I added a thick rib on the sides of the kid's sweaters, as well as ribbing at the hem. I felt like the pattern made really boxy sweaters so the addition of the hem ribbing really balanced them out better. I added the side ribbing because I didn't like the amount of ease that was in the pattern even though I did the exact stitch gauge and sizes suggested, but I have read my exact same complaint several places, so I think sizing was an issue with this book.. With the sleeves I knitted in the round using double pointed needles and I made them longer then they needed to be so I can simply fold the cuff back and they will wear them longer. Both the kids sweaters are done in 100% wool, and I used the duplicate stitch method to put the initials in the front.
in front of the Hogwart's Express at Universal Studios in Florida!
Paul's sweater is made from a nylon wool blend (not my choice, that is the yarn he chose! Stink'n Paul, I'm not a fan of synthetic fibers, but he really liked the color.) I added 2 inches in length to the body of the sweater, and 4 inches in length to the sleeves (this pattern has REALLY short sleeves and I'm not the only one to have had trouble with it!.) I did not love how the front neck turned out in this pattern, it is very straight and I felt like it should have had a curve added so it wasn't right in your neck; oh well, I'm not going back now and adding one! I used a brown wool fabric for the letter (using fusible to attach it to the front,) and then a zig zag stitch to secure it down. The buttons are just some brown ones from Joann's. I think Paul wanted a slightly more subtle look for the letter then the gray and red of the original movie one, which is perfect for him since he is A. not a crazy dresser, and B. he will actually get regular use out of it without it being costume-y..

Anyway, I am now totally jealous of everybody's sweaters! It was so fun to see them all wearing them at Hogwarts this Christmas! I am thinking I need one now, although I can't decided if I want one like the kid's or Paul. (His took forever it seemed, but I think that is because HE is so big rather then the sweater being more time consuming!)
linked up at,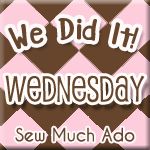 , Sew Woodsy, and Blue Cricket Design