So remember my Little Letterman's Jacket? If not you can go look
here
to get caught up, don't worry I'll wait for you to get back……
Okay, so one of the pieces that I needed in order to make a proper Letterman's Jacket was the letter of course! I wanted to make an authentic looking chenille loop pile letter, and the only way I knew how to do that was through needle punch embroidery. (I became aware of needle punch embroidery about 10 years ago through a little quilt shop near my house when my family was assigned with the Air Force in Utah, they had some amazing
custom embroidered belts
on sale) The needles used to be really hard to find, but as crafting has grown they are becoming more common; I was able to find a needle punch embroidery set at Hobby Lobby, but I have seen them other places as well.
I wasn't entirely sure what the best way to do the embroidery was since I needed felt for the base, (that's what the real letters have,) but I also didn't think the felt would work for holding the loops or even it's shape while doing the embroidery. (I tried it to see, and I was right, there was no way it was going to work.) I came up with the idea of sewing felt to a thicker fabric base, and then embroidering through both layers, which turned out perfectly I think.
For my sample I used regular craft felt, and for the jacket's "I" I used 100% wool felt, and I found that both of them work equally well when properly backed.
Sorry about how rubbish these pictures are, I took them with the camera in one hand, and the work in my other hand, (at night too because I like to spit into the wind of good picture taking practice.)
I started off by sewing a straight stitch around my shape. Sorry this looks terrible, it's actually a fairly small "I" that I did without drawing it first (I did draw the actual jacket "I" before sewing it.) I then satin stitched around the edge to give it a finished look. (I apparently didn't take my time when I was making my test sample, so it doesn't look that straight.) I used a black thread so that the edge was visible through the whole sample, but on the Letterman's jacket I used a matching green thread so it would blend in.
Next I placed my fabric felt side down in an embroidery hoop, (this embroidery is worked from the back.) The satin stitching provided a nice border to work inside of and was very easy to see. The backing fabric I used was a medium weight cotton twill fabric that I just happened to have a scrap of.
I used the 1.26mm needle punch tool for this project, with 3 strands of embroidery floss. The set comes with a needle threader and instructions, so go ahead and follow those to get threaded up.
With about 1.5″ of thread as a tail, I went ahead and punched into my fabric along the inside edge of the satin stitching.
The tool should penetrate fairly easily, so if it's not going into your fabric very well, your base fabric might be to dense.
When I'm working I never have the needle stop touching the fabric, I drag the point down only a few threads at a time when it is up top, and then I punch back in again, with as short a stitches as I can manage. (It goes fast as soon as you find a rhythm.)
Here's what the front looked like on the right side of the piece, as the little loops were starting to form.
Basically I just kept punching stitches in lines, closely filling in the whole back by building up rows. I tend to do it in color blocks so I am achieving small goals throughout the process.
From the front again, with only a little bit left to go.
Here's the back completely filled in, I used exactly one skein of DMC floss to do this small I (I believe I used 4 for the "I" on my Letterman's Jacket) I would have liked this "I" to be slightly more dense on the front, but as this was a sample, I didn't feel the need to get another skein just for this.
This is the front at this stage, do you see a couple of bald spots that I should have filled in? If this happens to you it is really easy to go back and add more loops, but as I said I didn't for the sample. Anyway, there are a couple of long threads punched through to the front, and possibly even some mutant loops, but it's okay don't panic.
All you need to do is take a pair of snips (preferably not your kid's crappy glue covered paper scissors) and trim everything flush with the surface.
The needle punch embroidery instruction sheet also says to trim the back threads flush. At this stage I also carefully cut away the cotton twill fabric, without cutting the felt

.
Next I trimmed the felt a little closer to the edge of the stitching. I actually trimmed the felt a little too closely on this sample, I think it looks better a little wider, which is what I did on the Jacket "I"
Now this next step is not in the punch needle embroidery instructions, but I did it to make myself feel better. It seems to me that a little tug at the front could possibly pull out a bunch of the loops, so I needed to do something to secure them from the back. (Kind of like those annoying pulls you get in your towels within 10 seconds of buying them.) I used a fabric glue to coat the back of the patch on all the embroidered bits. (I have also done this with fusible interfacing in the past, but ironing onto felt can burn it if you aren't careful.)
Here's what it looks like with the wet glue on it. At this point you can either put the patch on your garment and have the glue work to help hold your layers together, or you can just let the glue dry and sew the patch onto whatever you want later.
I chose to glue mine on right away, because my fabric was thick and the glue wouldn't bleed through to the other side. Next I took the patch/fabric combo to my machine and sewed it down with matching cream thread around the felt edge.
It's a bit wonky, but I think you still get the idea what it all looks like.
So there you go, hopefully I was able to make the process clear enough, but if you need me to clarify anything let me know.
Now we are down to the exciting bit! A GIVEAWAY!!! I got an extra Punch Needle Embroidery set with 4 skeins of floss to give away to one lucky follower! (I am so excited to send one of you this fun set, it comes with 3 different sized needles, a threader, and a pattern for you to practice with.)
So what do you need to do to be entered to win? Just go ahead and follow me and then leave me a comment here saying that you do (and if you want to, you can tell me whatever cool idea you have for the punch needle embroidery tool in your comment too!) Since this is my first giveaway I'm sorry to say I am going to have to limit entry for this one to US residents only since I want to figure out the whole process first! (If I get to over 100 followers I am going to celebrate with a really awesome second surprise giveaway, so don't hold back!)
I saw this picture last night
here
and my husband and I thought it was very funny,
Ha, ha, that's my fear, but if that's the case, then you will have a one in 12 chance of winning I guess!!!
The giveaway will close in a week, (January 30th) so I will announce the winner then! If you're interested, you could learn more embroidery check out
Halloween embroidery designs
! Thanks for reading!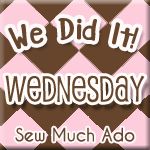 Sew Woodsy