so please come on over and learn how to make your own letter!
I feel like the most distinctive features of a Letterman's Jacket are the wool body, the leather/pleather sleeves and pocket welts, the snaps down the front, the striped ribbing, and the "chenille" loop pile letters with a felt border as seen in the picture bellow,
I love being able to make things that "look right" and I hope you think I was able to manage it!
Anyway, without further ado I present my "Little Letterman"
This Jacket has a soft wool body, with buttery soft pebbled pleather sleeves and custom made striped ribbing.
It's fully lined in a soft plaid cotton flannel.
I closed the front using bronze colored snaps, and the pockets are double welted in the olive pleather. I made the striped ribbing by dyeing tan colored ribbing olive, and then stitching strips of cream colored ribbing down to the olive fabric. I'm sure it's possible to find ribbing that is already striped, but my color palette was a little specific, and I couldn't even find the right olive green let alone a stripe!
I used top stitching on the body, and machine embroidery on cream wool felt to add more authentic Letterman's Jacket style detailing. Working with the pleather is particularly challenging since it really doesn't ease, is sticky when being sewn to itself and slick when being sewn to anything else. Presser feet don't really like to slide over the top of pleather either so a quick tip for someone who doesn't have a Teflon presser foot (which I don't have) is to put a piece of sticky tape on the bottom of your presser foot (with a little hole where your needle comes down so you don't gum up your needle by going through tape,) and your pleather should slide more easily. Also, you want to increase your stitch length a little so you aren't perforating the pleather so many times you weaken it.
I am still trying to decide if/what decoration to add to the back – usually there would be a basketball or football on the back under the name, but my son is sort of more of a "Math-lete" then an Athlete! He thought a piece of Lego would be cool, (since he loves Lego NXT robots) but I am still on the fence about that one! I thought about a 4 leaf clover since it would go with all the green, and we are part Irish, but I don't know, maybe it should be something more fun?
I added my son's name to the front, but that is only because he is an older child, and wouldn't go with a stranger just because they knew his name (We have actually had a family password since they were little, so he actually wouldn't even go with someone he knew unless they could tell him the password since many people are kidnapped by people they know – sorry, didn't mean to get heavy, I just thought I would put that safety tip out there!) The embroidered crown was just one I added because I thought it was a cute vintage-esque little extra detail.
The "I" is actually one of the bits I am most proud of! I made this chenille "I" using needle punch embroidery and regular cotton embroidery floss. I actually found discovering the exact right technique for this quite challenging, but once I did it came out just perfectly I think! (I am actually going to be doing a tutorial on this, and giving away a punch needle tool kit and some floss to one lucky follower this week! I'm so excited for my first giveaway, so don't forget to follow me! )
The jacket pattern is my own, and was mostly made on the fly as I needed pieces, the body is made off of an upper body sloper I have for Isaac. (A sloper is essentially a pattern blank you make from a person's measurements or from a scrap fabric fitting you do directly to their body.) I just added the ease I wanted, seam allowances, etc. When it came time to add extra bits like the wool rectangles on the hem closure by the ribbing, I just sort of eyeballed them to fit.
He's wearing his favorite hat that his dad brought him back from deployment, because there is seriously no sports memorabilia in this child's life! But I think this definitely needs to change. His dad would love it if one day he saw that Isaac was wearing an athletic shirt that can be customised with places like Imprint. At least this way, he can have some sports memorabilia without it being truly overwhelming to him, you know? But I think we're definitely heading in the right direction. (There really isn't a piece of green missing from the hem, I just didn't notice it was tucked up when I took the picture!)
Isaac Pretty much loves this jacket, he was soooo excited that I made HIM something new for the challenge rather than making another thing for Emmie (Poor child feels like the red headed step child sometimes when it comes to sewing since girl clothes can be more fun to make.) He wants to wear it everywhere now, and he is the first person to tell people his mom MADE it! (My husband has also told me that this is his favorite thing I have ever made because it is just so cool and real looking. I might actually end up making one for my Hunny, because he LOVES all things vintage, and even has letters from high school that he never got a jacket for!)
As a side note, Isaac has also worn his jeans every time they have come out of the laundry. He has even worn them to school two days in a row, and was apparently asked "Aren't those the jeans you wore yesterday?" to which he casually replied "Yup." A teenager already! He doesn't mind people knowing he's in dirty clothes!
Anyway, tune in tomorrow to see my needle punch embroidered letter tutorial, and for a chance to win your own needle punch embroidery tool set with embroidery floss so you can make your own Letterman's Jacket! (Or whatever you want to make!) (Open now for entry!)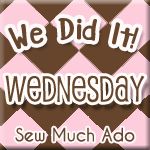 Sew Woodsy