We went out Estate Sale-ing again today, (which was a total bust) and while we were out we stopped in at a local antique store that has lots of furniture. We have been searching for furniture for Isaac's room, and although we have settled on several pieces from restoration hardware, I was not sold on the bed we were looking at.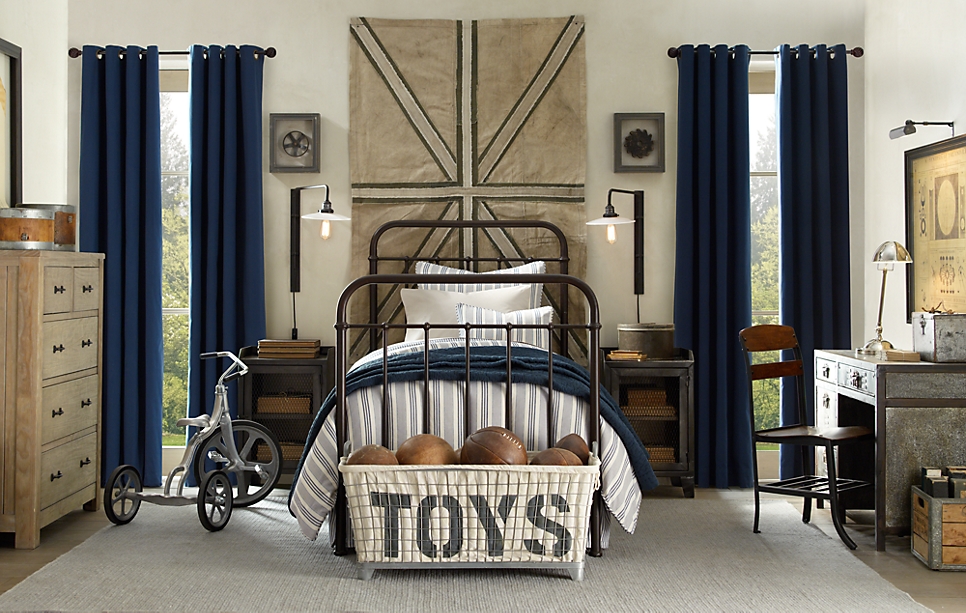 You see we are getting him that desk, and a metal locker bench for the foot of his bed,
and although I thought this bed was really cute, I didn't know how I felt about all that metal. (I also have some concerns about his height over the next few years, he is probably going to end up over 6'3″ in the next 5 years, which means he's going to look like a giant folded into a little bed, and constantly kick the foot-board.)
I really struggle with the quality issues most regular furniture stores have with their children's furniture, I like REAL wood and it seems like most furniture stores have laminate furniture or knotty pine cabin style stuff, which is not what I am going for. We are pretty much limited to children's furniture unless we want to get him a full-queen sized bed, since those are usually the smallest size you can get regularly, which creates a whole new set of issues bigger beds need bigger mattresses like this Dormeo and the more expensive bed frame, (although that would solve the problem of him folding himself to a little bed in a few years.) The biggest problem with moving him into a bigger bed other then cost is since we never know where we are going to end up, we don't know how much room he's going to have in his next bedroom; if the room is too small for a full sized bed and all his other furniture, then what do we do? A twin XL would be ideal for his future height, but would still involve getting him a new mattress, and finding a twin XL bed frame. We recently had to buy a new mattress since we found some bed bugs in ours. We had to call a company like Terminix pest control to come and sort it out for us. I hope we don't have that issue again though.
I liked a couple of Restoration Hardware's beds, but I can't say I *loved* any of them. (and they are really spendy, this one is $850,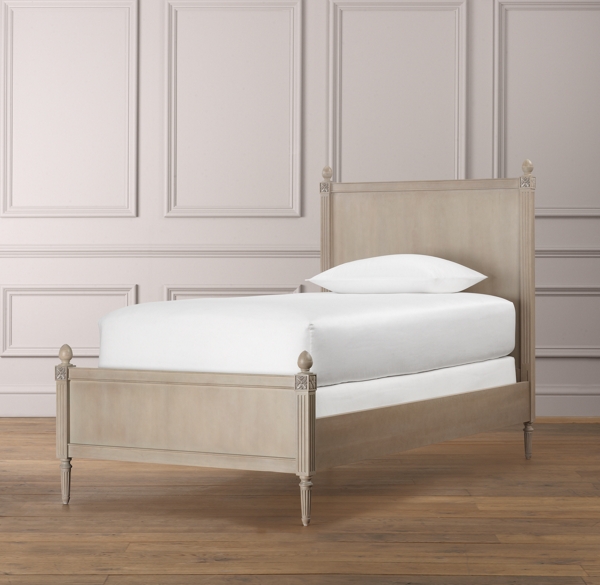 while this one is $1299)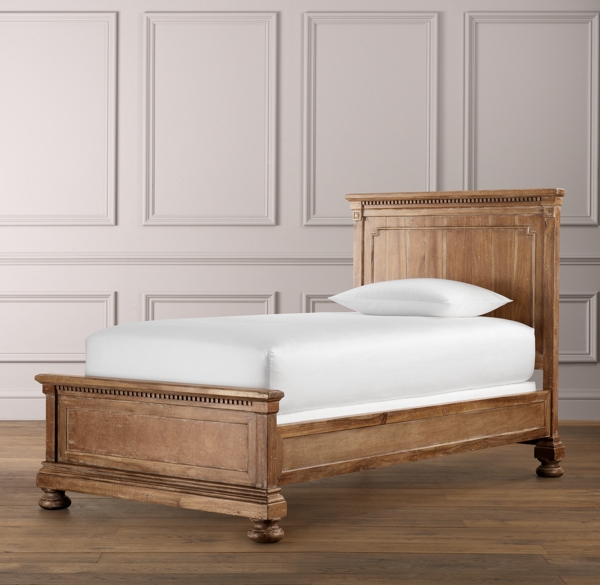 If you notice what these beds have in common, it's low foot-boards, Paul (he's 6'3″) says foot-boards are what make regular beds feel cramped to him, so we are looking for lower foot-boards. I am not even pretending we are in the market for a $1300 bed for him, I don't even want to spend that on his whole room let alone a bed!
So back to the antique store we went to today, we found a fantastic and very simple twin bed that is all hardwood and has a super low foot board, which is exactly what we were looking for! Here is the bed we found as it sat in the antique store,
It needs a tiny bit of cleaning up, but it is not broken or loose at all so everything is cosmetic, and nothing a good wash couldn't solve. I couldn't believe the price we got this bed for, it was $130! I know it doesn't look like much in this picture, but it is really great for the look we are going for, and it can handle the bedding and the cushions we are doing without being too busy. Another great feature of this bed is, if he does need to move up to a twin XL in 4-5 years Paul could just make him longer side rails, and the frame would still fit width-wise.
I am pretty excited about being able to get this great bed today, and we are going to list his current bed (which we are getting rid of because it is too heavy, it came from a sale on Bolling AFB when they redid their hotel rooms, it is the most solid captain's bed I've ever seen in my life!) and bedroom furniture on craigslist so hopefully we can have the additional money to put towards all the finishing details we want to get!
With this bed, my room projects for Isaac now include cleaning up the bed, refinishing the dresser, refinishing the side table, and making him a quilt and decorative pillow. I can't really get on doing these projects right this minute because the weather is a little too cold to be doing any painting outside as I suspect it would never dry, and I just have too much schooling to do right now anyway for anything majorly time consuming. But it is fun to do the planning while it is still cold and winter, so as soon as summer comes, I have a plan!