I think I mentioned earlier that we ran into a snafu with the desk we wanted for Isaac's room, the one I wanted was too small for Isaac to sit at for more then a little bit…… This is why you should do your research thoroughly when choosing office furniture or any type of furniture for any room. You want everything to be perfect and when it isn't, like we found out, it can be very annoying.
The only positive thing that I can take from this situation is knowing that it didn't happen in a professional office environment, as this would've added to my nightmare. Unfortunately for my friend, she found herself in a similar sort of predicament the other day. The office cubicles that she had ordered for her new office building weren't what she was looking for. In fact, it was the complete opposite of what she wanted and had to look elsewhere to find some that were suitable. Luckily, she was pointed in the direction of a company like Versare, (see this page here) who had a wide variety of cubicles to choose from. And as it turns out, this is just what she needed to help get her decorating back on track. Now, it looks great and even better than she imagined. So, I guess it can happen to anyone. Well, it did, as it happened to us and our desk.
We didn't realize that it was so low until we double checked with the store, and the front drawer makes it impossible for an adult person to sit in a regular chair even though the height of the top is almost the same as a regular desk, which is not good for us since Isaac is only a few short years away from being a very tall boy. Color me sad for sure, since I wanted a metal desk for his room, as I feel like we are a little wood heavy in there, and I wanted some contrast and texture in there.
When I realized that this desk wouldn't work I started looking around a lot of different sources, googling metal desks, locker desks, etc. and I could only find cheesy brightly colored desks. I didn't want to buy a full priced desk just to paint it, so I decided to see what craigslist had to offer, and I found a $55 metal desk, that although it completely lacked the charm of the Restoration Hardware desk, it was the right size, and 1/10th the price of the locker desk, (which is a number I can work with if I am having to paint and put work into it.)
I totally didn't take a before picture (that's how I roll) but managed to find a similar one online (our's has an extra drawer over the center section)
Exciting right? The difference between our desk and the one in the picture (besides the drawer) is that our desk was dirty, and a little rusty in a couple of spots, but the drawers and everything worked just fine. We hated the silver legs, and it sort of looked like an 80s piece, which was not the sort of "vintage" I was looking for, but we figured if we replaced the drawer pulls, and changed the color, it could be made into something special!
We started by disassembling the whole desk and sanding all the metal pieces, so that we could spray paint all the parts oil rubbed bronze.
We went with this Rustoleum spray because it had a nice brown-ish undertone, and it had a cool texture (we tried a different brand too, and didn't like it as much) that was smooth, but seemed metallic to the touch.
We put the desk back together (except for the top) and did a final spray to touch everything up, and to get the bolts matching everything. I then added several coats of matte, clear, spray varnish. Then we put the top back on, (at first I was not going to keep the original top, but then I decided that it was in good shape, and a dark wood color (even if it's a fake wood) which is in good shape, and would be very durable.)
The center drawer didn't have any pull on it, but we decided to add one as a detail to dress it up, Paul drilled 2 holes in the drawer, and riveted it on with brass rivets. This pull is from Anthropologie,
To cover the hole left by the lock we removed, we added this tag from Anthropologie,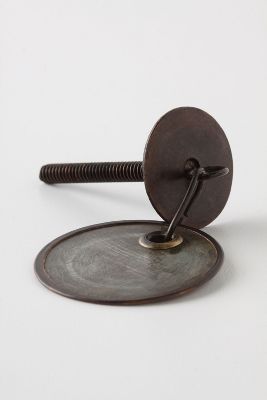 I stamped "MY STUFF" onto it with a metal punch set I got from Michael's, and then rubbed black paint into the letters.
The drawer pulls, were a totally amazing find that inspired the whole hardware look of the desk, they are also from Anthropologie,
We had to tie a knot in the top one so it didn't hang down over the tag, but I think it is actually pretty cool and adds to the look. (this picture shows the color pretty accurately too)
I felt a little frivolous for spending so much on pulls ($12 + $12 + $8 + $6) but knew that they were the detail this desk needed to not be an 1980s office special! All told, this desk cost less then $130 and only took an afternoon's worth of work, which when you consider we were going to spend over $600 after shipping for the other desk, that ain't to shabby!!!
Want to see the end result?
This picture is a where's Waldo of projects I need to blog about but haven't 🙂 The lamp I made from a bowl and mercury glass spray is in it, the chair is one I got at an estate sale for $6 and just sprayed it bronze at the same time as I did the desk (it was baby blue) and I have a tutorial all ready to be written up for the basket liners in Isaac's shelf. Anyway, back to the desk – I was happy with how it turned out, it's slightly industrial, and if it gets a bit knocked about it won't really matter as a nick or scratch back to the original black color won't ruin the look. I LOVE the pulls, and I think they are the thing that make it more than just an 80's metal desk, and to me it is slightly steampunk. Isaac has been in love with the desk! He sits at it to do all his homework and robot building now, and I think having a plan for his room in S.Korea is helping to settle his nerves about having a home base set up pretty quickly upon arrival.