The carpet fitters are coming tomorrow morning to turn my sewing/craft studio into a family room for selling the house, and I realized that I never shared pictures of it here, so as a last hurrah and sad farewell to my sewing studio shed, I thought I would do a post about it!
My studio sheds on the estate aren't about looking pretty inside, (I wish it was!) but it's very much 100% about function, and I kept it as neutral as possible in order to have the best light for fabric and thread matching, so I am afraid that it isn't going to look like a designer room, but I love it anyway. (Pardon me while I shed a tear here……. I'm feeling a big loss with this room! 😉
we ripped the carpet out of this room and epoxied the floor, it is great for sweeping and doing all sorts of crafts that would mess a carpet. I believe the room is about 12 x 21 feet in case anyone is wondering.
Here is the view back the other direction, the door on the far right leads to the garage, and the other door is to the laundry room and then the kitchen. We had to make sure that the garage door wouldn't break so people couldn't get into here, so we had someone come in to fix it (you can try OVERHEAD DOOR COMPANY OF HOUSTON if you face a similar problem). Anyway, the center table is 3'x4′ and has a yardstick screwed to one side, we got this table for free from a neighbor in DC and recovered the top with white laminate.
My loom lives at one end of the room, all folded up when not in use. All the mess behind it is actually not mess, it is very controlled chaos of loom related stuff like boards for when I do painted warps etc.
Between the loom and the sewing table I keep a folding table as an extra work surface, it's covered in new towels right now because I am supposed to embroider them……. at this stage I should probably just take them back since they go with the kids bathroom and were supposed to be spare towels, and we will probably do a different theme in the next place.
These pictures are all taken from the garage door to help give perspective.
this is what is inside of the cabinet to the left of the stairs, it houses fabric dye stuff on the bottom, and weaving yarns on the top. (there are embroidery flosses in the purple candy tins)
above the serger desk there are all the cone threads (there are staple guns, hot glue guns, heat guns, etc. in the black boxes.)
above the futon there is storage for bolts, Paul put these up for me with broom handles as the dowels, and closet cup hooks for the brackets, I love this storage, I love looking at all my treasures!
mostly Emmie pins things to my bulletin board, she always puts her designs there!
here is the serger station, it has my serger and my coverstitch machine. I keep bolts of fabric larger then 3 yards in these shelves (joanns will give you empty bolts for free, and they fit in IKEA billy bookshelves perfectly) behind the doors I have other folded fabric, and boxes of elastic, velcro, buttons, etc. above the shelves I keep boxes of more fabric. (on the left you can see the stool I use to get to all the tall stuff!)
next to the sewing desk I have my Guttermann box of thread (that I just filled up with 3 spools per color when they were on sale!) and my rack of machine embroidery thread, I got super lucky and stocked up for 90% off when our Joann's was going out of business to move to a new building!
My sewing station, I have a magnetic knife strip with all my scissors on it, my sewing machine, and my embroidery machine. I love my little TV/DVD player, I have it on a pivot point so I can see it from anywhere in the room, and I am always listening to movies while I do stuff in there (Coraline is my favorite to listen to.)
I have the glass from my stained glass projects in this storage area, with screens from screen printing above. In the closed cupboard I have paints, brushes, and misc. craft items.
If you have any questions about what something is, let me know, I haven't covered anything to the depth I would have liked to, as I am actually putting the laptop down right now to go start packing up the room, and I just don't have the time to open every door and take pictures! (besides, like I said everything is for organization and not necessarily for pretty!) But I would totally love to talk about anything that didn't seem clear.
*You get bonus points if you noticed that my dress form wears a bra, I can't find one that fits me properly, so I make the ribs the right size, and then put a bra and stuffing on the dress form to make it closer to my shape!
linked up at,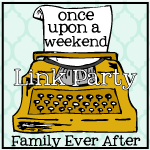 Sew Woodsy