don't worry, I spelled the title correctly! I meant poll, not pole, 🙂 as this is all about asking for help in deciding what I want to make for my shower curtain, not how to put it up!
I was thinking of having a custom shower door installation but then I saw this fabric and fell in love, I just had to buy it and use it for my shower curtain,
And It just arrived and is beautiful! (and the colors are perfect with my master bedroom's stuff, which is this bedding from Pottery Barn,
The feather fabric has the same colors, and I like that they have a great feel together without being matchy patchy (as my sister Sarah would say) and the feathers are very gender neutral to me.
Anyway, here is my dilemma, I originally thought I would make my shower curtain in the style of this one from Anthropologie,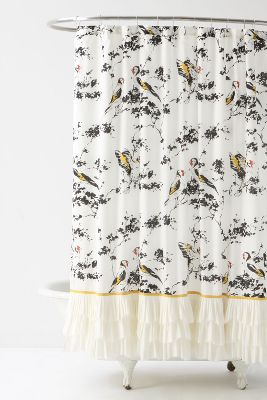 But now I am not so sure. You see my bathroom is tiny, and the tub is right next to the toilet, so I am suddenly worried that the ruffles will add enough poof, that when pushed open, the shower curtain will invade the gap and touch the toilet (gross, there is a lot of condensation here in the States with the humidity, so the toilet side is always a little damp after a shower.) As you can tell, this is stressing me out a great deal! You might think I'm overreacting but the number of issues I've had with the plumbing in this bathroom has been insane. If it wasn't for a service like Sirius Plumbing and Air Conditioning these problems would have been exacerbated a lot more!
So here is my question, should I make just a plain shower curtain out of the feather fabric (I'm going to remember to do a tutorial this time too, so keep that in mind, would a plain shower curtain be to boring, or is it a good basic, and would be a more helpful tutorial?) Or should I do the Anthro version, and I don't know, live with the toilet touching? (I really don't actually know if this will be a genuine issue, there is about 10″ of space next to the toilet, but you can only open the curtain towards the toilet, since otherwise you would have to step out of the shower into the toilet.) I wouldn't mind washing it more often, except the ruffles will wrinkle in the wash, and that's a lot or ironing….. I guess the shower could steam it straight!
OR do you have a totally fantastic suggestion for me that you could either tell me about, or leave me a link for? I am open to ideas here!